GODIAG GT100 OBDII Protocol Detector OBD Diagnostic Port Tester Breakout Box
GODIAG GT100 OBDII Protocol Detector OBD Diagnostic Port Tester
GODIAG GT100 is a latest testing platform for OBDII protocol communication detection and ECU maintenance / diagnosis / programming / coding. It can convert the car OBD2 interface into 16 pin for signal detection and electrical level conversion. Able to connect the single modules or multiple modules of the vehicle to test the communication. It can also provide power when you change the battery to avoid the vehicle control module data being lost, automatically locked, the key remote control fails and the fault light turns on.
What can GT100 Auto Tools do for me?

1. OBDII Protocol Detector & communication detection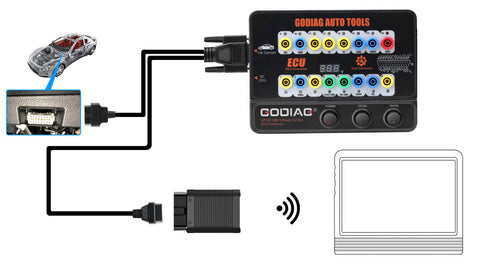 2. Convert OBD1 diagnostic interface to the standard OBD2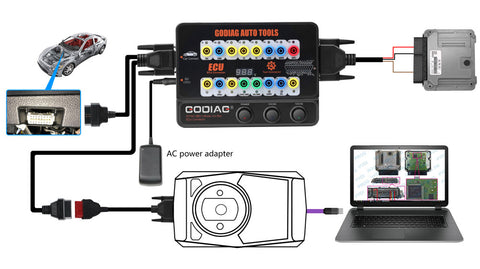 3. GODIAG GT100, connected to a single ECU module, is convenient for a user to do the single-module diagnosis and programming.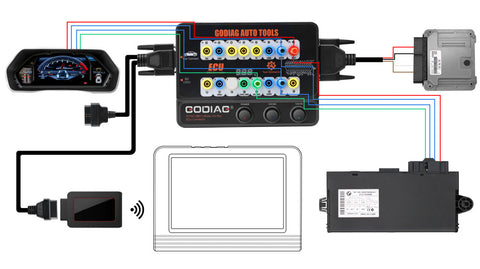 4. Connect multiple ECU control modules at the same time, which is convenient for the professional engineers to detect and maintain.
5. Power the car when replacing the used battery.

What additional bonus i can get from GT100?

1. Banana plug extension connection:
Extend the car's OBDII 16pin interface to tell you whether the OBDII interface connection is good or not, which is convenient for the test of OBDII interface voltage waveform.
2. 1.2 Meter Extension cable

Godiag GT100 Parameter

Diagnostic port OBDII
Working voltage DC 9V-24V
Work and power 0.5-0.6W
Adapter power Input AC100v-240v, Output DC12V 1A
Operating temperature range -20 to 70 °C ( -4 to 158 °F )
Storage temperature range -40 to 85 °C ( -40 to 185 °F )
Dimension L: 23cm, W:18cm, H:7cm

Package includes:

1pc x Host
1pc xOBD 2-in-1 extension cable
1pc xColored jumper cable
1pc xPower supply 12V
1pc xResistance 120 ohm
6pcs xBanana plug
24pcs xWire accessories, Dupont 2.54mm connector female pins