Xhorse XDKR00GL Key Reader Multiple Key Types Supported Portable Key Identification Device
Xhorse XDKR00GL Key Reader  Multiple Key Types Supported Portable Key Identification Device
Xhorse XDKR00GL Key Reader can identify key bitting within seconds because of its built-in optical key bitting unit, therefore, it is extremely convenient and easy to use. Users can obtain the precise key bitting results and cut keys directly via Xhorse APP and key cutting machines of Xhorse and other brands. 
Xhorse XDKR00GL Key Reader is a professional and portable key identification device. It can identify car keys (including plastic keys and aluminum keys) quickly and accurately on the market. With its optical imaging technique, whether it is a plastic key, an aluminum key with an oxidized layer, or a defaced key,
Xhorse XDKR00GL Key Reader can accurately identify and read the bitting without breaking probes. Above all, the whole key bitting reading process only takes seconds, therefore, Xhorse XDKR00GL Key Reader can save time and efforts for locksmiths worldwide.
Xhorse Key Reader Highlights:

1. Reading Key Bitting More Accurately than Taking Photos
2. Accurate and Efficient Optical Identification of Key Bitting
3. Identify Aluminum Keys, Plastic Keys and Metal Keys
4. Taking Only Seconds to Read Key Bitting
5. Avoiding Breaking Probes
6. Xhorse Mobile APP Control is Easy to Use
7. Optical Imaging Technique in Key Bitting Reading
Optical imaging uses light and special properties of photons to obtain detailed images of substances. Based on the optical imaging technique, Xhorse XDKP00GL Key Reader is able to identify almost all car and motorcycle keys.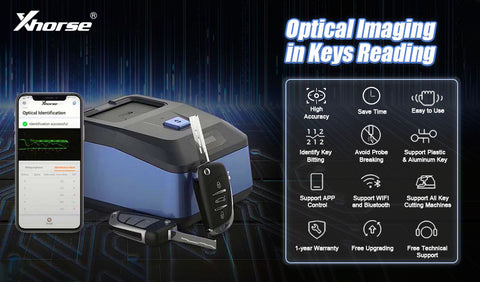 Xhorse XDKR00GL Key Reader Operation:
 
To use Xhorse XDKR00GL Key Reader, you'll need to download Xhorse APP by which you can control it to finish all the steps of key bitting reading. Also, you can use Xhorse key cutting machines with screens to finish the work the key cutting.
 
Step 1: Connect Xhorse XDKR00GL Key Reader to Xhorse APP via WiFi or Bluetooth.
Step 2: Insert the key into Xhorse XDKR00GL Key Reader.
Step 3: Click 'Identification' to acquire the key bitting.
Step 4: Cut the key directly via the connected key cutting machine.
 
Note: For CNC machines without Bluetooth function or machines made by other manufacturers, you can also use this device to read the data and manually input it into the CNC cutting machines.